Screen Printing Supplies | Screen Print Supplies | Screen Print Supply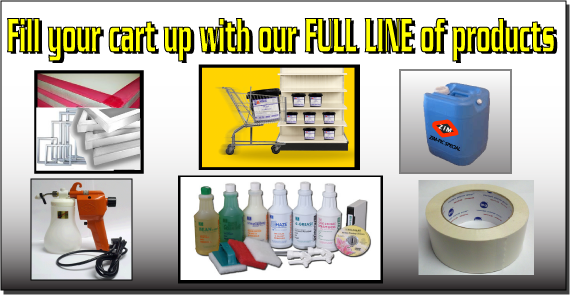 Precision Graphics has teamed with leading screen printing suppliers to bring you the industries most comprehensive range of equipment, inks, and supplies to meet your textile screen printing requirements.
Whether you choose to shop online or contact your Buckets of Ink Company, we are committed to provide you with the highest standard of service and quality products at competitive prices. Innovative looks and superior, consistent results are the qualities that our customers love.
Screen printing and Screen Printing Supplies is a printing technique that uses a screen mesh to support an ink-blocking stencil. The attached stencil forms open areas of mesh that transfer Triangle Ink or other printable materials which can be pressed through the mesh as a sharp-edged image onto a substrate. A fill blade or squeegee is moved across the screen stencil, forcing or pumping ink into the mesh openings for transfer by capillary action during the squeegee stroke.
While using screen print supply matterials; Screen printing is also a stencil method of print making in which a design is imposed on a screen of polyester or other fine mesh, with blank areas coated with an impermeable substance, and ink is forced into the mesh openings of the mesh by the fill blade or squeegee and onto the printing surface during the squeegee stroke. It is also known as silkscreen, serigraphy, and serigraph printing. A number of screens can be used to produce a multicoloured image.
Screen Printing History in the 1960s to present
Credit is generally given to the artist Andy Warhol for popularizing screen printing identified as serigraphy, in the United States. Warhol is particularly identified with his 1962 depiction of actress Marilyn Monroe screen printed in garish colors.
American entrepreneur, artist and inventor Michael Vasilantone would start to use, develop, and sell a rotary multicolor garment screen printing machine in 1960. Vasilantone would later file for patent on his invention in 1967 granted number 3,427,964 on February 18, 1969. The original rotary machine was manufactured to print logos and team information on baseball garments but soon directed to the new fad of printing on t-shirts. The Vasilantone patent was licensed by multiple manufacturers, the resulting production and boom in printed t-shirts made the rotary garment screen printing machine the most popular device for screen printing in the industry. Screen printing on garments currently accounts for over half of the screen printing activity in the United States. During this time period screen print supplies companies escalated in many new items and products for this growing industry.
In June 1986, Marc Tartaglia, Marc Tartaglia Jr. and Michael Tartaglia created a silk screening device which is defined in its US Patent Document as, "Multi-colored designs are applied on a plurality of textile fabric or sheet materials with a silk screen printer having seven platens arranged in two horizontal rows below a longitudinal heater which is movable across either row." This invention received the patent number 4,671,174 on June 9, 1987, however the patent no longer exists.
Graphic screenprinting is widely used today to create many mass or large batch produced graphics, such as posters or display stands. Full color prints can be created by printing in CMYK (cyan, magenta, yellow and black ('key')). As a refference check out our color chart.
Screen printing lends itself well to printing on canvas. Andy Warhol, Rob Ryan, Blexbolex, Arthur Okamura, Robert Rauschenberg, Harry Gottlieb, and many other artists have used screen printing as an expression of creativity and artistic vision.
Screen Printing Supplies