Scout Shop
---
Scout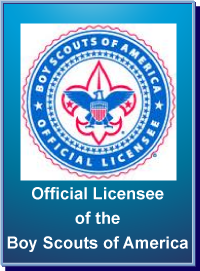 Boy Scout Store
Boy scouts are a tradition that has been around since 1910, and has millions of members. They are located all across the nation, and strive toward building character and self-reliance beginning at an early age and lasting throughout adulthood. Precision Graphics is a national approved licensed vender of the Boy Scouts of America and offers many products that can be used by boy scouts and the Boy Scouts of America to promote themselves. Some of these items include scout hats, hoodies, jackets, backpacks, flashlights, and shorts. These items can be customized just the way you want them, and little time is required to have them done.
Scout Stuff
Also available are customizable Boy Scout shirts. We offer a variety of styles, including short and long sleeve, polo, and knit shirts. These items are not only great for boy scouts themselves, but also are a great promotional product for those thinking about joining, as well as friends and family. If there is a fair or event in the area, these are great to give out as a free gift and gain recognition. These Boy Scout shirts are high-quality, and will look exactly how you want them too.
BSA Scout Shop
We also offer customizable infant and child gear, which you can turn into Boy Scout apparel. Scout leaders and family members will enjoy seeing their children wearing Boy Scout shirts and clothing.
Boy Scouts T-shirts
If you have an idea for any type of Boy Scout apparel, we can help you make that happen. Simply tell us what you want and in little time, you will have it. With competitive prices and a 100% money back guarantee, both offered because of our top of the line technology, you will get what you want. We do anything from the basic Boy Scout logo to troop specific apparel, and even more general or custom designs. Decide what you want today, place your order, and receive exactly what you are dreaming of in no time, and error-free.
---